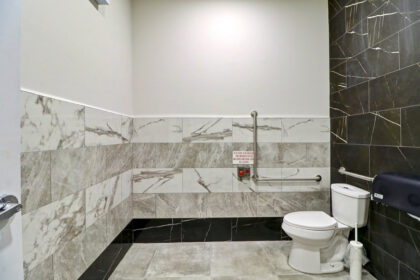 #bathroomrenovation #bathroomremodel #bathroomdesign #homedecor #homeimprovement #bathroommakeover #interiordesign #renovation #bathroomgoals #modernbathroom #bathroominspo #bathroomideas #bathroomvanity #showerdesign #bathtubdesign #bathroomstorage #bathroomupgrades #luxurybathroom #bathroomrenovations #bathroomcontractor #bathroomtransformation #homeimprovementideas #custombathroom #bathroomrenovationideas #homeremodeling #homedesign #renovationideas #interiordecorating #homedecorideas
Are you tired of your outdated and cramped bathroom? It's time for a change! Lucky5Group offers expert bathroom renovation services to help you transform your space into a relaxing oasis. From updating the fixtures to creating more storage space, our team of professionals can help you achieve the bathroom of your dreams.
We offer a wide range of services, including installing new countertops, upgrading the shower or bathtub, adding new lighting fixtures, and much more. We use only the highest quality materials to ensure that your new bathroom lasts for years to come.
At Lucky5Group, we understand that a bathroom renovation can be a major investment. That's why we offer flexible financing options to make the process more affordable. Plus, our team will work closely with you to create a custom design that fits your unique needs and preferences.
Transform your bathroom into the oasis you deserve with Lucky5Group. Contact us today to schedule a consultation and start your renovation journey.