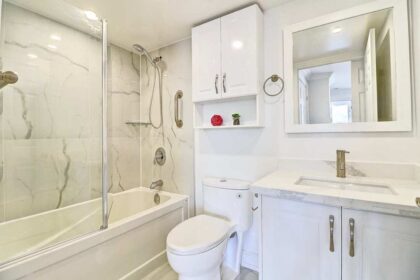 #bathroomrenovations #customrenovations #homedesign #homerenovation #bathroomremodel #homeimprovement #interiordesign #modernbathrooms #luxurybathrooms #bathroommakeover #bathroomdesign #homeremodeling #homereno #torontorenovation #lucky5group #torontorenovations #bathroomgoals #renovationexperts #qualitycraftsmanship #bathroominspo #dreambathroom #bathroomideas #beautifulbathrooms #renovationservices #constructionservices #homeupgrades #homemakeover #torontobathroomrenovations
Are you tired of your old, outdated bathroom? Lucky5Group is here to help with our custom bathroom renovation services. Our team of experts will work with you to design a bathroom that suits your style and needs. From modern and sleek to cozy and inviting, we can bring your vision to life.
Our bathroom renovations are not only aesthetically pleasing, but also functional and durable. We use high-quality materials and employ skilled craftsmen to ensure that your new bathroom will stand the test of time. Whether you need a simple refresh or a complete overhaul, Lucky5Group is the solution.
We understand that bathroom renovations can be overwhelming, which is why we offer a stress-free experience. Our team will take care of every step of the process, from design to installation, leaving you with a beautiful new bathroom without any hassle.
Don't settle for an outdated bathroom. Elevate your home with Lucky5Group's custom bathroom renovations. Contact us today to schedule a consultation.