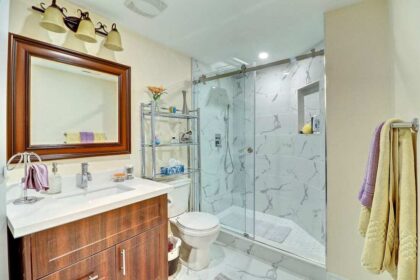 #BathroomRenovations #BathroomMakeover #LuxuryBathroom #FunctionalDesign #CustomCabinetry #PremiumFixtures #QualityMaterials #RenovationExperts #HomeRenovations #HomeDesign #Lucky5Group #TorontoRenovations #TransformYourSpace #StressFreeRenovations #OutstandingResults
Looking to upgrade your bathroom? Lucky5Group offers high-quality bathroom renovations that will transform your space into a luxurious and functional oasis. Our team of experienced professionals will work with you to design a personalized plan that meets your specific needs and style preferences.
From custom cabinetry to premium fixtures and finishes, we use only the highest quality materials to ensure your bathroom renovation lasts for years to come. Our team will also work efficiently to minimize disruption to your daily routine, ensuring a stress-free renovation experience.
With Lucky5Group, you can expect exceptional service and outstanding results. Contact us today to schedule a consultation and start planning your dream bathroom renovation.