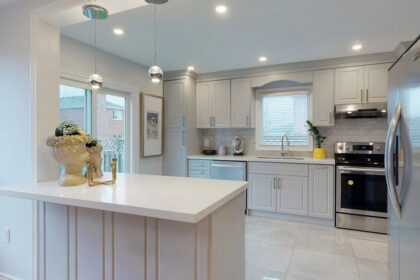 #kitchenrenovations #kitchenremodel #customkitchen #kitchenideas #kitcheninspiration #kitchendesign #kitchenmakeover #kitchenupdate #kitchenstyle #kitchenaccessories #kitchenfeatures #kitchenfunctionality #kitchencabinetry #kitchencountertops #kitchenbacksplash #kitchenflooring #kitchenlighting #kitchenstorage #kitchenorganization #kitchenlife #homerenovation #homedesign #homeimprovement #homedecor #designinspiration #interiordesign #lucky5group
Are you looking to transform your kitchen into a stylish and functional space? Lucky5Group has got you covered with our top-notch kitchen renovation services. Our team of experts will guide you through every step of the process, from design to installation, to ensure that your dream kitchen becomes a reality.
We understand that the kitchen is the heart of the home, where family and friends gather to share meals and make memories. That's why we prioritize both form and function in our kitchen renovations. Our team will work closely with you to create a custom design that meets your unique needs and style preferences.
Our kitchen renovation services include everything from custom cabinetry and countertops to backsplashes and flooring. We use only the highest quality materials and products to ensure that your new kitchen is both beautiful and durable.
In addition to our expert design and installation services, we also offer a wide range of kitchen accessories and features, such as soft-close drawers, pull-out pantries, and under-cabinet lighting. These small touches can make a big difference in the functionality and convenience of your new kitchen.
At Lucky5Group, we pride ourselves on delivering exceptional customer service and satisfaction. Our team is dedicated to ensuring that every aspect of your kitchen renovation is stress-free and enjoyable. Trust us to bring your dream kitchen to life.