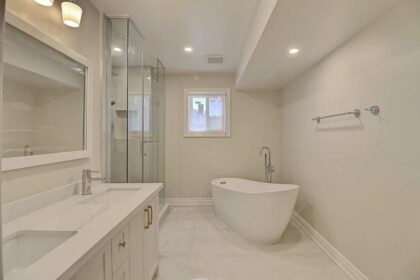 #bathroomrenovation #bathroomdesign #luxurybathroom #bathroomremodel #bathroommakeover #bathroomdecor #bathroomrenovations #bathroomideas #bathroomgoals #interiordesign #homeimprovement #homerenovation #homeremodel #homeinspiration #designinspiration #custombathrooms #modernbathroom #elegantbathroom #homedecor #interiordecorating #renovationcompany #lucky5group #torontorenovations #torontorenovationcompany #markhamrenovations #markhamrenovationcompany #gtarenovations #gtarenovationcompany #qualityrenovations
Are you tired of your outdated and dull bathroom? Lucky5Group can transform your space into a luxurious and modern oasis with our expert bathroom renovation services. Our team of skilled professionals will work with you to create a customized design that fits your style and needs, whether it's a sleek and contemporary look or a classic and elegant feel.
We use only the highest quality materials and fixtures to ensure durability and longevity in your new bathroom. From custom vanities and countertops to luxurious shower systems and soaking tubs, we have everything you need to create your dream bathroom. Our attention to detail and commitment to excellence means you can trust us to deliver exceptional results every time.
At Lucky5Group, we understand that bathroom renovations can be a major investment. That's why we offer competitive pricing and flexible financing options to make your dream bathroom a reality. Don't settle for a subpar bathroom any longer. Contact us today to schedule your consultation and begin your journey to a beautiful and luxurious bathroom.