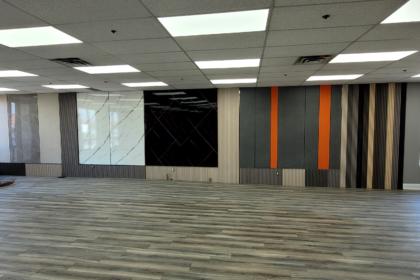 #CommercialRenovations #OfficeRenovations #RetailRenovations #RestaurantRenovations #CustomMillwork #GreaterTorontoArea #BusinessRenovations #CommercialSpaces #Lucky5Group #Expertise #Quality #AttentionToDetail #TrustedSuppliers #OnTime #WithinBudget #ElevateYourBusiness #ImpressClients #CreateAnUnforgettableImpression
Looking to elevate your business space and impress clients and customers alike? Lucky5Group's commercial renovation services are just what you need. Our team of experienced professionals has successfully completed numerous commercial renovation projects throughout the Greater Toronto Area, ranging from small offices to large retail spaces.
We understand that every business has unique needs and requirements when it comes to their commercial space. That's why we offer a wide range of renovation services, including interior and exterior upgrades, layout and design changes, and custom millwork. Whether you're looking to modernize your office, expand your retail space, or create a new restaurant concept, Lucky5Group has the expertise and experience to bring your vision to life.
At Lucky5Group, we prioritize quality and attention to detail in every project we undertake. We use only the best materials and work with trusted suppliers to ensure that every aspect of your commercial renovation is up to our high standards. Plus, our team is dedicated to completing projects on time and within budget, so you can get back to business as usual as soon as possible.
Don't settle for a mediocre commercial space. Elevate your business and create an unforgettable impression with Lucky5Group's commercial renovation services. Contact us today to schedule a consultation and start planning your project.