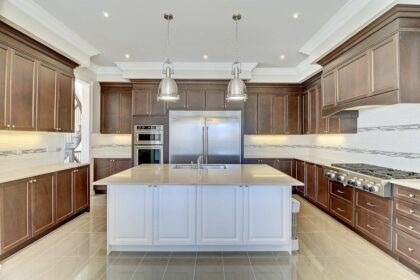 #kitchenrenovation #kitchendesign #customcabinets #countertops #backsplashes #lighting #homeimprovement #homedecor #remodeling #interiordesign #modernkitchen #functional #highqualitymaterials #customerexperience #attentiontodetail #consultation #Lucky5Group
Are you tired of your outdated and inefficient kitchen? Lucky5Group has got you covered! Our team of experts is here to help you revamp your kitchen into a modern and functional space that you and your family will love.
Our kitchen renovation services include everything from custom cabinets, countertops, backsplashes, lighting, and more. We use high-quality materials and the latest design trends to create a unique and personalized space that fits your needs and style.
At Lucky5Group, we understand that your kitchen is the heart of your home, which is why we strive to provide exceptional customer service and attention to detail throughout the entire renovation process. We work closely with you to ensure that your vision is brought to life and that you are completely satisfied with the end result.
Don't wait any longer to transform your kitchen into the space you've always wanted. Contact Lucky5Group today to schedule a consultation with one of our experts.