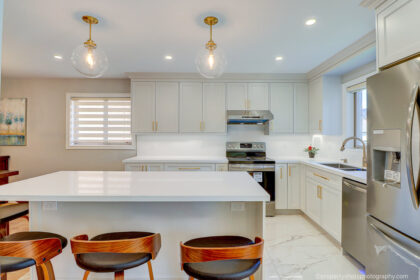 #kitchenrenovation #kitchenmakeover #customkitchens #kitchendesign #modernkitchens #contemporarykitchens #classickitchens #kitchenideas #kitchenremodeling #kitchenrenovations #kitcheninspiration #kitchenstyle #interiordesign #homedecor #kitchensofinstagram #torontocontractor #torontorenovation #homeimprovement #lucky5group #transformationtuesday #beforeandafter #homerenovation #homeremodel #kitchenlove #dreamkitchen #luxurykitchen #kitchengoals #hgtv #kitchensofinsta
Are you looking to transform your kitchen into a modern masterpiece? Lucky5Group can help you bring your dream kitchen to life with our expert renovation services. Whether you prefer a classic or contemporary look, we have a variety of design ideas to suit your taste.
Our team of professionals will work with you to create a customized plan that fits your budget and lifestyle. From custom cabinetry to unique backsplash options, we can help you turn your kitchen into the heart of your home.
With a focus on functionality and style, we will ensure that your kitchen renovation meets all of your needs. Our use of high-quality materials and attention to detail will guarantee a long-lasting and beautiful space that you and your family will love.
Don't wait any longer to transform your kitchen. Contact Lucky5Group today to schedule your consultation and start your kitchen makeover journey.