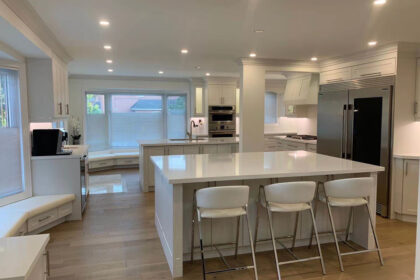 #kitchenrenovations #kitchenremodel #customcabinetry #countertops #backsplash #lighting #cooking #kitchenupgrade #homeimprovement #interiordesign #kitcheninspiration #modernkitchen #functional #durability #qualitymaterials #skilledcraftsmen #dreamkitchen #cookingathome #design #installation #personalizedplan #budgetfriendly #Lucky5Group #Toronto #GTA #Markham #RichmondHill #Thornhill #NorthYork #Vaughan
Are you tired of cooking in a drab, outdated kitchen? Lucky5Group can help you transform your cooking space into the kitchen of your dreams! Our team of experts can handle everything from design to installation, ensuring a seamless renovation experience.
We understand that every kitchen is unique, which is why we work with you to create a personalized plan that fits your needs and budget. Our wide range of kitchen renovation services includes custom cabinetry, countertops, backsplashes, lighting, and more.
At Lucky5Group, we pride ourselves on using only the highest quality materials and products. Our team of skilled craftsmen and designers ensures that your new kitchen is not only stunning, but also functional and durable.