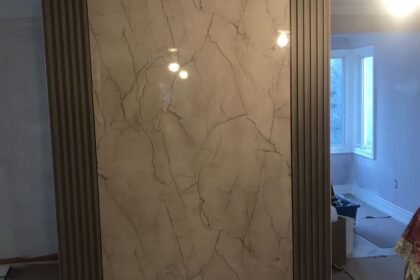 #homeimprovement #homeremodeling #homedesign #renovation #customhomes #kitchenrenovation #bathroomrenovation #flooring #lighting #sustainability #ecofriendly #Toronto
Are you tired of your outdated home? Lucky5Group can help you transform your living space into your dream home. Our team of experts will work with you every step of the way to ensure your vision becomes a reality. From kitchen and bathroom renovations to flooring and lighting installations, we specialize in all aspects of home remodeling.
We understand that every home is unique, which is why we provide custom solutions tailored to your specific needs. Our design team will work closely with you to create a cohesive look that reflects your personal style. With our commitment to quality craftsmanship and attention to detail, you can trust us to deliver exceptional results that will exceed your expectations.
At Lucky5Group, we only use the highest quality materials to ensure your home is not only beautiful but also durable and long-lasting. Our eco-friendly options include eco-wallboard and sustainable wood flooring, giving you peace of mind that your home renovation is environmentally conscious.
Don't wait any longer to create the home you've always wanted. Contact Lucky5Group today to schedule a consultation and start the journey towards your dream space.