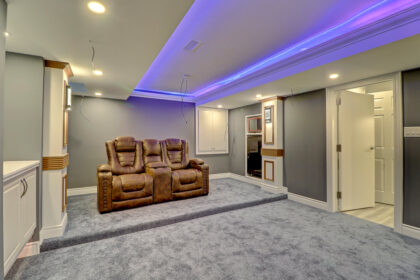 #Lucky5Group #renovations #livingroom #familyroom #homedesign #homedecor #customcabinetry #flooring #lighting #homeimprovement #designbuild #qualitycraftsmanship #customersatisfaction #transformation #livingspaces #interiordesign #homeremodeling #contractor #homecontractor #toronto #richmondhill #markham #vaughan #aurora #newmarket #gta #ontario
Are you ready to transform your living spaces into a stylish and functional oasis? Look no further than Lucky5Group Renovations. Our team of experienced professionals will work with you to design and execute a renovation plan that fits your unique style and needs.
From cozy living rooms to spacious family rooms, we specialize in bringing your vision to life. We offer a variety of services, including custom cabinetry, flooring, lighting, and more. With Lucky5Group, your living space will be both beautiful and practical.
Our commitment to quality and customer satisfaction is unparalleled. We use only the highest quality materials and employ skilled tradespeople to ensure that your renovation is completed to the highest standards. You can trust that your living space will be in good hands with Lucky5Group.
Ready to take the first step towards transforming your living spaces? Contact us today to schedule a consultation and see how Lucky5Group can help bring your vision to life. Don't wait to start living in the home of your dreams.