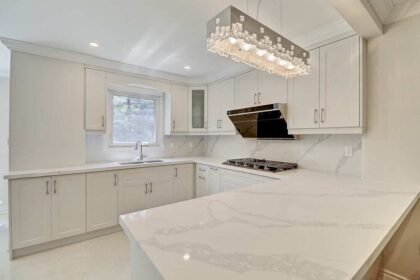 #kitchenrenovation #homedesign #kitchendesign #customcabinetry #appliances #homechef #culinaryparadise #modernlighting #countertops #flooring #backsplashes #homerenovation #homeimprovement #interiordesign #dreamkitchen #lucky5group
Are you a passionate home cook dreaming of a chef's kitchen? Lucky5Group has got you covered! Our expert team can help turn your kitchen into a culinary paradise, with all the features and amenities you need to create your masterpiece dishes.
From custom cabinetry to top-of-the-line appliances, our kitchen renovations are designed to meet the needs of the most discerning home chefs. We work with you to create a layout that maximizes efficiency and functionality, while still maintaining a stylish and inviting space for your family and guests.
Our team also specializes in kitchen lighting, with options ranging from modern LED fixtures to warm pendant lighting. And let's not forget about the finishing touches – we offer a wide range of countertop materials, backsplashes, and flooring options to ensure that your kitchen is truly customized to your preferences.
Upgrade your home cooking game with a kitchen renovation by Lucky5Group. Contact us today to schedule a consultation and get started on creating the chef's kitchen of your dreams.