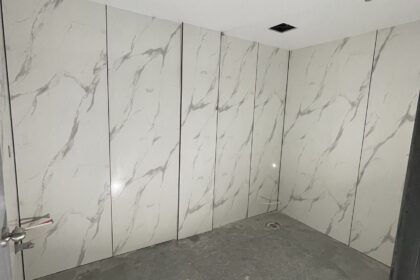 #bathroomrenovation #bathroomdesign #homedecor #interiordesign #bathroomremodel #bathroomdecor #renovation #homeremodeling #spalikebathroom #luxurybathroom #tiles #vanities #customization #durability #craftsmanship #customerexperience #Lucky5Group
Are you looking for a way to refresh your bathroom and make it more functional? Lucky5Group is here to help! Our team of experts can transform your bathroom into a spa-like retreat, making it a place where you can relax and unwind after a long day.
From stunning tiles to luxurious vanities, we have the ultimate solutions to meet your needs and exceed your expectations. We work closely with you to understand your vision and tailor our services to suit your style, preferences, and budget.
Our bathroom renovation services include everything from design to installation. We use only the highest quality materials and finishes to ensure your bathroom is not only beautiful, but also durable and long-lasting. Plus, we offer a wide range of customization options, so you can create a space that truly reflects your personality and lifestyle.
At Lucky5Group, we are committed to providing exceptional customer service and craftsmanship. We take pride in our work and strive to exceed our clients' expectations every time. Let us help you turn your dream bathroom into a reality!